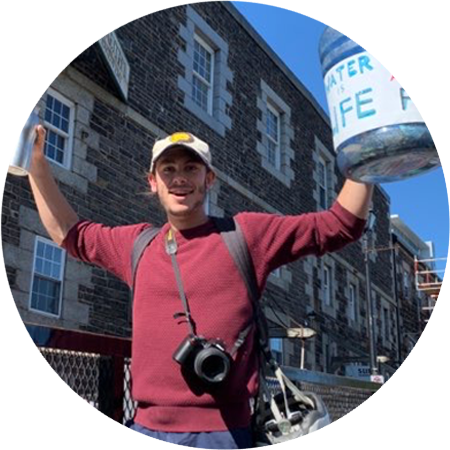 The List
Updated September 2020.
View previous version: January 2020

This page is an ever-evolving list of my goals, short term, and long term, as well as a few of my recent accomplishments. These goals aren't just about art, but my life in general, some couldn't feel further away, while I am taking active steps towards others. The purpose of this list is also to supplement my CV and give you a window into my aspirations and life.
2020 Goals
● Travel Solo

● Bike 100km in a day

● Take part in a gallery show

● Photograph or Document 100 Avian species

● Grow and plant 500 trees
Long Term Goals
● Graduate from University or College

● Have my own Solo Show

● Publish a book

● Live in another country

● Support myself financially entirely through art for at least one year.
Current Focus
● My nearly singular current focus is on my first semester of art school.

The summer is coming to a close. I am starting my BA with a Major in Fine Art this fall. Some months ago, I chose to attend NSCAD. I was uncertain then and remain that way now. Perhaps there is little difference, but I feel that I chose NSCAD not because of what opportunities I was eager to seize but for those I was afraid to miss out on.

I am still drawn to the idea of studying Biology, wildlife, plants, particularly trees, and even agriculture. I had hoped that with time I would become more confident in my choice. I think regardless of what I had decided to do, I would fear that I would be missing out on something greater elsewhere. I try to view this as an opportunity to explore and develop my art, and not as a limitation or an obligation of my future. I'm quite nervous about starting classes but excited to see what in store for me at NSCAD.
Recently Completed
● Graduated High School and received the Creative Innovators of Tomorrow Award to attend NSCAD university.

● Biked 160km or 100 miles in a day solo!

● Participated in Argyle Fine Art's Preshrunk 2020 Group Show.

● Participated in a Relief Fund Auction In support of Lebanon.

● Raised $1500 to support The Grassroot Grandmothers and The Stop Alton Gas Fund.
Go Fund Me Campaign
All content copyright Oscar Jarsky © 2014-2020.